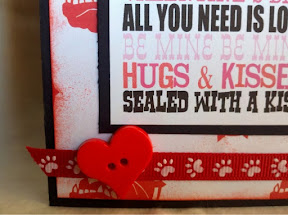 I just got done making the cutest valentine for an etsy customer, and can't wait to make more. In fact I know I am going to make one for our son.
The customer wanted a bulldog valentine for someone. Being that her special person is a bulldog, just like my sons high school mascot. I had the cutest bulldog paper, and little paw ribbon, the heart buttons I also had, and thought they were so cute on the card.
I made the inside pale pink with a little piece of card stock, so you can write your own sweet message inside.
I printed out the message from one of the graphics I have on my computer, too cute subway art.
If you are interested in purchasing this card, I have them for sale in my easy shop. I only put one up to see how they did, but as the sell I will keep relisting them.
Thanks everyone for all of your kind words and support!
- Posted using BlogPress from my iPad